Three Breakfasts That Will Help You Have the Most Productive Day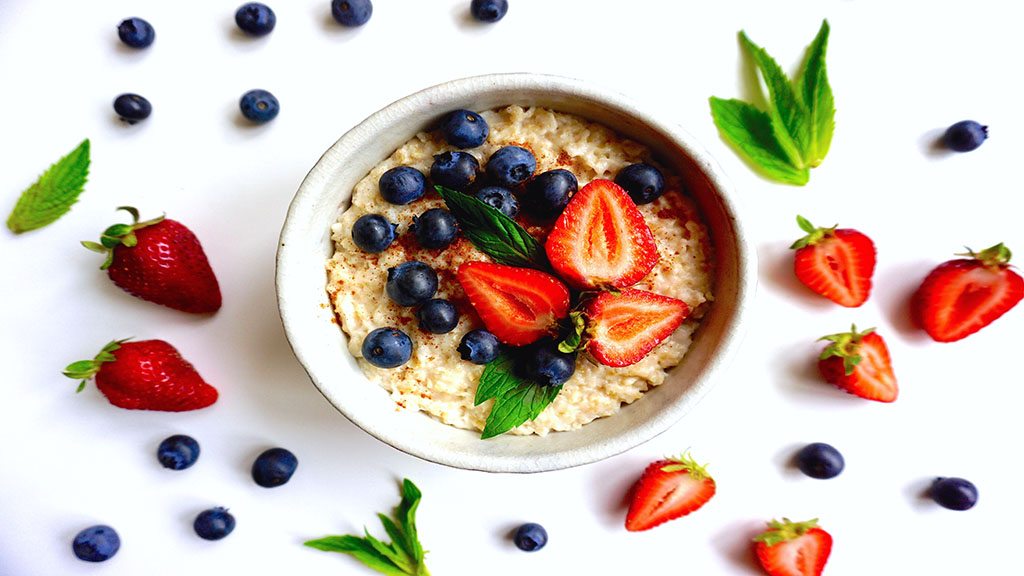 By Lee Holmes
There are two types of people in this world – the ones who go to sleep dreaming about breakfast and the ones who totally forget about it altogether.  You get me?  
So, which one is preferable?  
Well, eating breakfast the right way (i.e. not getting a ham and cheese toastie and scoffing it down on the train to work), can help fuel you correctly and set you up for a productive day at work. 
If you're reading this and thinking "I just don't have time to create a nourishing breakfast", I'm here to dispel that myth. Breakfast doesn't need to be complicated and difficult. I'm going to share with you three easy breakfast recipes that can naturally boost your energy, keep you satisfied and boost your cognitive function before the day even begins! 
Chia and Berry Overnight Breakfast Jar 
Chia seeds. These little guys are small in size but HUGE in terms of their nutrients. They're packed with omega-3's, antioxidants, fibre, calcium and protein.  Chia seeds can even help boost the immune system and burn fat. They provide a great burst of energy that won't end in a slump because of their great protein-fat-fibre ratio. Unlike some breakfast foods, chia seeds won't spike your blood sugar or insulin levels.  
Make this one the night before work and have it ready to through into your bag or briefcase. 
Serves: 1 
Ingredients:  
½ cup fresh or frozen raspberries, plus extra to serve

 
½ cup fresh or frozen blueberries, plus extra to serve

 

Pinch vanilla powder 

 

Pinch cinnamon

 

3 tbsp coconut flakes

 

3 tbsp chia seeds

 

1 cup milk of choice

 

1 tbsp nut butter (optional)

 
Method: 
Combine all ingredients apart from milk and nut butter in mason jar, gently mashing berries, then pour milk over and pop lid on. Place in fridge overnight. 
In the morning, serve with spoon of nut butter and extra berries. 
Cumin Scrambled Eggs and Greens
If you have a craving for a savoury breakfast, I've got just the thing for you. This light and satisfying bowl of scrambled eggs is loaded with stimulating spices and nourishing greens and it takes less than eight minutes to make! You can chop the onion and pepper the night before to make it even faster in the morning. 
Eggs contain all of the essential amino acids so it's great for building muscle and losing fat. They're also relatively inexpensive in comparison to other protein-rich foods so are perfect if you're on a budget. The choline in eggs is known to boost brain function and increase memory retention, perfect for a busy day on the office.  
Serves 2 
Ingredients 
1 teaspoon olive oil 

 

1 teaspoon cumin seeds

 
1⁄2 teaspoon coriander seeds

 

1⁄2 teaspoon ground turmeric

 

2 small green chillies, seeded and finely chopped

 

1⁄2 red onion, chopped

 

1⁄3 capsicum (pepper), diced

 

4 egg whites

 

Celtic sea salt, to taste

 

60 g (21⁄4 oz/2 cups) baby spinach, lightly steamed

 

small handful coriander (cilantro) leaves, chopped, to serve

 
Method :
Heat the olive oi in a medium frying pan over medium heat. Add the cumin and coriander seeds, and cook, stirring frequently, until they start to pop. Reduce the heat to low. 
Add the turmeric and stir for 1 minute. Add the chilli, onion and capsicum, and cook for 2–3 minutes or until the onion is translucent. 
In a bowl, lightly whisk the egg whites, season to taste, then pour into the pan. Stir with a fork until cooked to your liking. Serve on a bed of spinach, sprinkled with coriander. 
Gutmeal (Oatmeal with a Gut-Healing Twist)
There's nothing like starting your day than with a big, edible hug. That's how I feel about oatmeal. Oats are undeniably one of the most nourishing and delicious gut-healing foods out there. They boost beneficial bacteria in the gastrointestinal tract that can help provide serious relief when it comes to conditions like irritable bowel disease and constipation! Oatmeal is full of fibre and nutrients that keep you satisfied and heal the body all the way till lunch. 
Ingredients:
1 TBSP LYG powder

 

½ cup of water

 

¼ cup of gluten free oats

 
Pinch of  Celtic or Himalayan sea salt

 

Pinch of cinnamon

 

1/3 cup of mixed berries

 

¼ cup of coconut milk

 

Handful chopped mint

 
Method:
Cook oats in water

 
Add sea salt and cinnamon

 
When cooked, stir in the LYG powder

 
Add milk and remove any lumps by stirring through

 
Top with berries and torn mint