Luke Mclean-The Health & Wellbeing Manager at Cotton On, tells you why you should start prioritising your energy, not just your time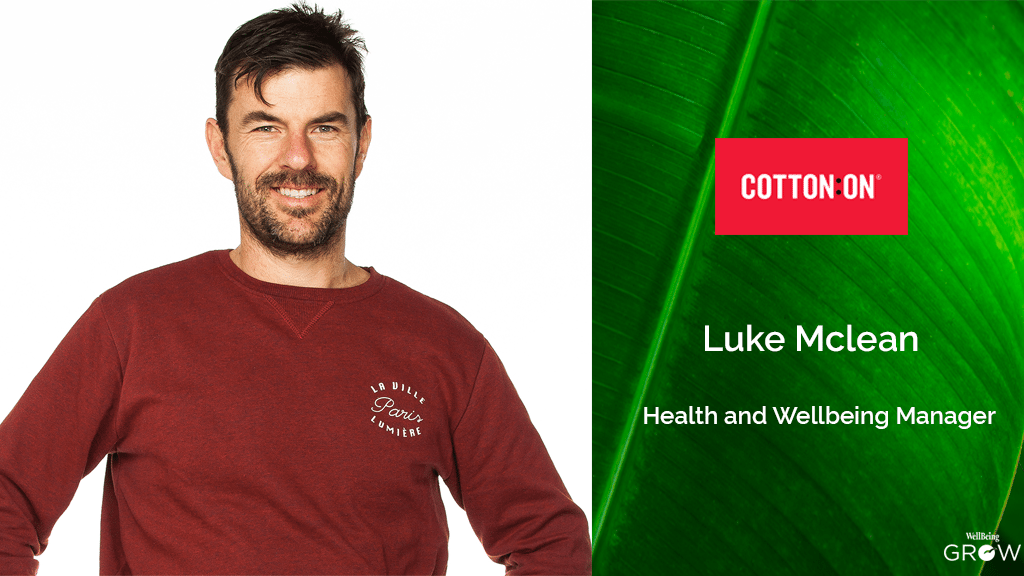 … "The question is how do you maximise your energy to the moments that matter and that's what we try to do. That's the physical, mental, emotional and spiritual energy that you show up at the right times with maximum energy. Things like mindfulness and food and relationships and balance all form the living ecosystem of energy that allow you to be at your best and not at your best, depending from an energy perspective. To just show up and say I sat in that meeting is different to saying I showed up and sat in that meeting with really good energy…"
Luke Mclean-The Health & Wellbeing Manager at Cotton On, is making positive changes for the company by providing employees with a high-quality, wellness experience at work. Some of the onsite facilities, health programs and services that Cotton On now provide for their employees at head office; include an Osteopath, in-store yoga and more flexible working hours.
Mclean, who is also the founder of Eco Life coaching, uses eco-psychology to create a better, more positive work environment that encourages employees to bring their best energy into the office. In a podcast discussion with editor-in-chief Terry Robson this week, Mclean discusses how the wellness culture at Cotton On has actually maximized employee energy and output and has built a better, all-round work experience for all.
TR: So what do you see as the role of a corporation in an employee's life?
LM: Oh it's huge. I think it's 2080 weeks it is, that you spend at work. That's a huge amount of time that you are there! It should shape your values, your culture, your beliefs and how you bring up your children… those relationships that you have…you can make that meaningful and go well beyond the pay check, it's now about quality of life, not just quality of performance to give back.
TR: We have talked about how fast the business is growing… you are growing at 20% a year, there must be some challenges in terms of looking after your people?
LM: Yeah without a doubt the growth costs something… And we really try to look at that carefully. Things like we will have an osteopath on site because so many of our people travel… we've become more whole when we have grown…77% female and we are a retail space… That stuff that we do is mostly for convenience. We are a little bit out of town. We also have got car washing, the café and what we try to do is people that would do stuff out of work hours, if they can do that at work that allows them more time to do the stuff that they want to do when they are at home.
TR: You've talked about managing a team's energy rather than managing its time, as being part of a wellness culture. Explain that to me?
LM: … it's when you want to talk wellness, and people are trying to hound you for those ROI's, times fixed, no one is getting any more, but energy is not. So the quality of energy you can bring to the moment can fluctuate. So the question is how do you maximise your energy to the moments that matter and that's what we try to do. That's the physical, mental, emotional and spiritual energy that you show up at the right times with the maximum energy. Things like mindfulness and food and relationship and balance all form this living ecosystem of energy that allow you to be at your best or not at your best, depending from an energy perspective. To just show up and say I sat in that meeting is different to saying I showed up and sat in that meeting with really good energy, that is a different conversation. So that's what we sort of look at. And one thing from a wellness perspective is our thing is to encourage people to perform at their best so what that means is if we provide buses, and that takes financial pressure off some of our lower income employees that live in Melbourne. That is going to give them the energy to perform at their best, it takes the stress away from them about driving to Geelong everyday.